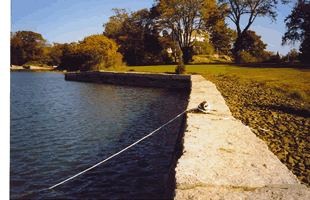 DOCK PERMITS & WATERFRONT PERMITS
Coastline Consulting, LLC is recognized as one of the leading experts in dock permitting, waterfront permitting, and overall shoreline development. We are proud of our solid reputation and proven track-record with the regulatory agencies throughout New England. We have been selected to perform various waterfront development services based on our intimate knowledge of the processes and ability to obtain permits quickly. Coastline Consulting, LLC is also committed to working with our clients to meet their individual needs and budgets. We believe that our experience and proven record are an important factor in providing these timely and cost effective services. The end results are successful projects and satisfied clients. Although every dock permit is different, Coastline Consulting, LLC typically follows our proven step by step approach as outlined below for the smallest floating dock permit to the largest marina development permit.
Dock Permit Site Inspection
Coastline Consulting, LLC offers an initial site inspection and dock permit consultation at no charge. We appreciate the opportunity to meet with you, discuss your dock plans, and provide a dock permit evaluation. We typically like to schedule our dock permit evaluation at low tide so that we can best determine how any tidal wetlands, shellfish resources, or other coastal resources on site may impact your dock permit application. Upon conclusion of our meeting, you will be provided with all necessary guidance to understand the general permitting process, the dock permitting concerns at your site, and the overall direction of your proposed dock project.
Permit Pre-Application Meetings
In order to ensure that your proposed project will meet regulatory policy, Coastline Consulting, LLC will often conduct a pre-application meeting with the regulatory agencies prior to actual permit submittal. These meetings are routinely conducted with the Connecticut Department of Environmental Protection (DEP), the New York Department of Environmental Conservation (DEC), the Rhode Island Department of Environmental Management (DEM), and the Army Corps of Engineers (ACOE). The outcome of this task is a clear direction on how to best prepare your proposed dock application, meet regulatory policy, and therefore obtain expedited permit approval.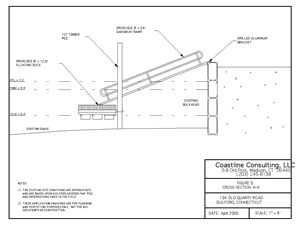 Dock Application Drawings
The dock application drawings are one of the most important components to the success of your dock permit and subsequent dock project. To initiate this phase, our design team will evaluate all of the critical data gathered to this point and weigh the numerous variables to begin formulating your dock application drawings. We consider your vision and desires to be the most important criteria in this process. However, our design team also evaluates other variables including water depth, tide range, bottom substrate, wave exposure, environmental resources, and the regulatory permit restrictions of your state. Using this information, we will evaluate and then prepare the best dock application drawings to meet your specific needs making your dock vision a reality!
Dock & Waterfront Permit Applications
Coastline Consulting, LLC has extensive experience with preparation of dock permit applications as we have obtained permit approvals for more than one hundred docks over the last several years. We work in concert with the regulatory agencies, including the Connecticut DEP, New York DEC, Rhode Island DEM, and New England ACOE to obtain permit approvals. Our years of consulting experience allows us to not just fill out the forms, but to speak the regulatory language, anticipate concerns, and provide the necessary application information based upon our past successes. The end result is a solid regulatory relationship, a proven track record, and quicker permit approvals.
Regulatory Permit Representation
Following the submittal of the dock permit applications to the regulatory agencies, they typically begin their permit review process. During this process, these agencies will often have questions regarding the proposed project plans. Coastline Consulting, LLC will represent you throughout the application process by providing responses to any agency questions in an effort to expedite their review and achieve final permit approval. This is where our clients best recognize our consulting value, experience, and proven track record with the regulatory agencies.
Dock Construction Management
Following the completion of the dock design phase and the dock permitting process, many clients choose to have Coastline Consulting, LLC further assist them with the dock construction and management phase. When you have invested so much in the dock of your dreams, you want to make sure it is done right! With this service, our clients can have a comfort level that the dock construction is being completed as designed by your marine consultant and as required by the regulatory permits.